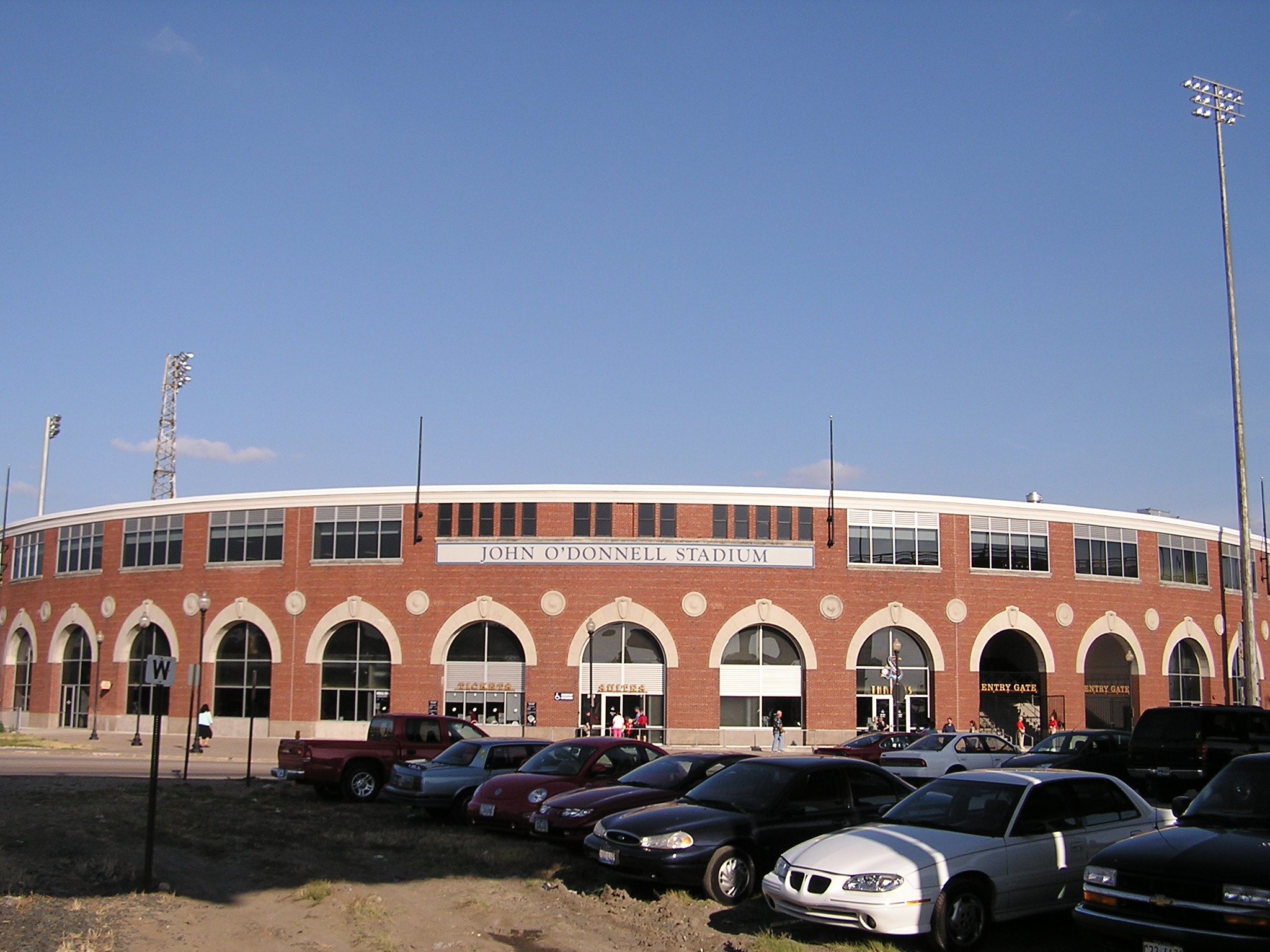 TEAM ::: SWING OF THE QUAD CITIES
LOCATION ::: DAVENPORT, IOWA
MY FIRST VISIT ::: JULY 6, 2005
OPPONENT ::: WEST MICHIGAN WHITECAPS
LEVEL ::: MIDWEST LEAGUE 'A'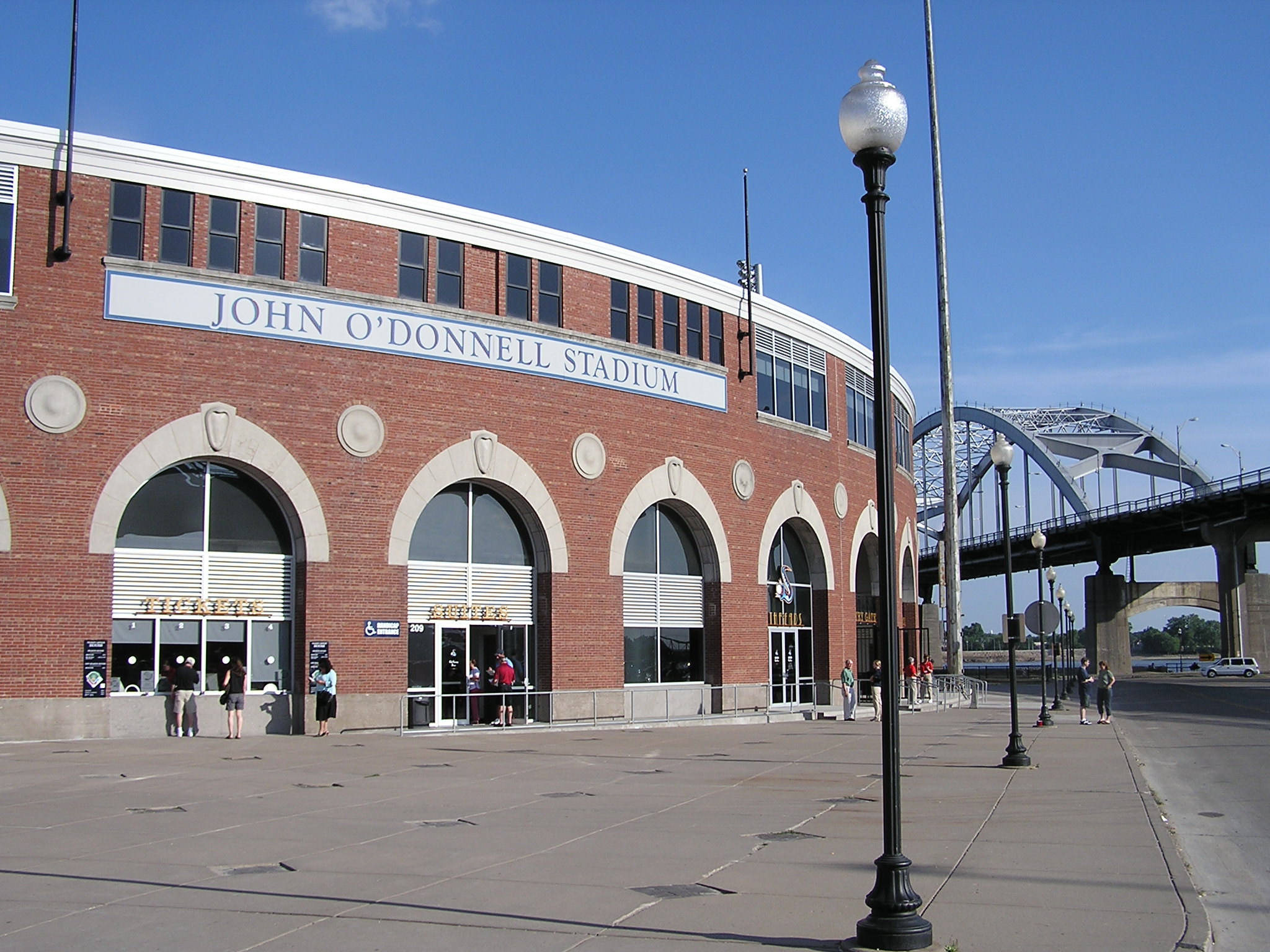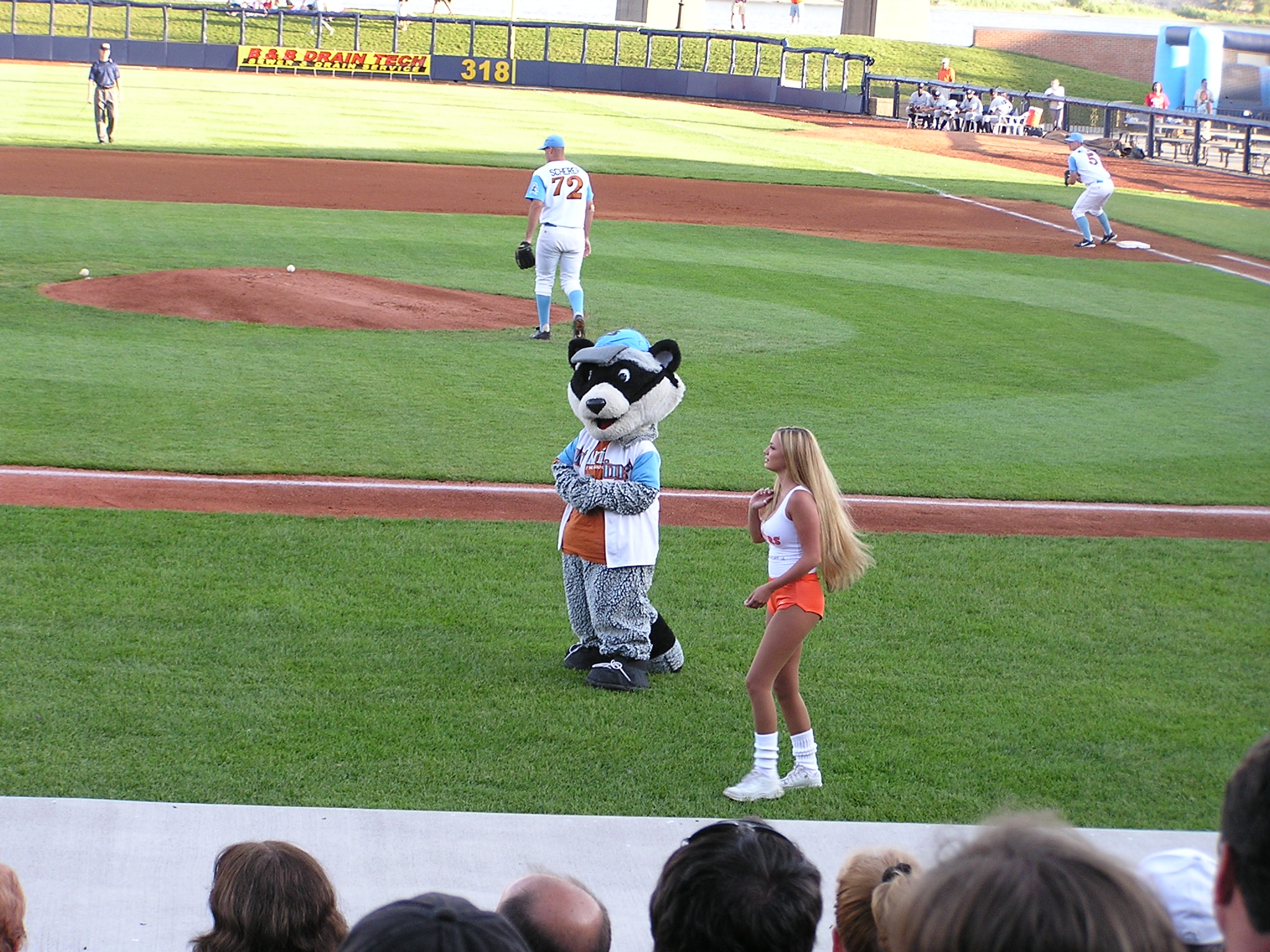 RATINGS

BALLFIELD ::: A+
SCOREBOARD :: B
FOOD ::: C
FACILITIES ::: B
MASCOT ::: B-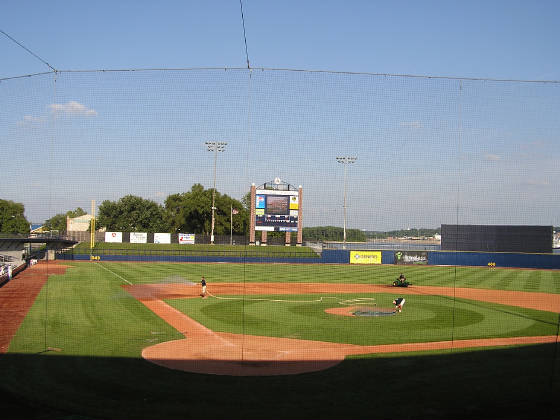 MY TAKE ON THE PARK
WHEN I TOLD PEOPLE I WAS GOING TO SEE THE SWING OF THE QUAD CITIES I WAS ASKED WHERE THEY ARE. NOT ONLY CAN I NOW RESPOND TO WHERE IT IS, I CAN NAME ALL 4 CITIES ... DAVENPORT, MOLINE, ROCK ISLAND, AND BETTENDORF.
LOCATED ALONG THE BANKS OF THE MISSISSIPPI RIVER SITS JOHN O'DONNELL STADIUM WHERE AN AD FOR A MEXICAN RESTAURANT IN ROCK ISLAND'S SLOGAN IS "WHERE ACROSS THE BORDER IS RIGHT DOWN THE STREET." A CASINO DOWN THE
STREET ON THE THIRD BASE SIDE, A RIVER BOAT CASINO IN CENTER FIELD, AND THE DOMINATING CENTENNIAL BRIDGE DOWN THE FIRST BASE SIDE WHICH TURNS THIS ORDINARY STADIUM INTO A VERY PICTURESQUE PARK.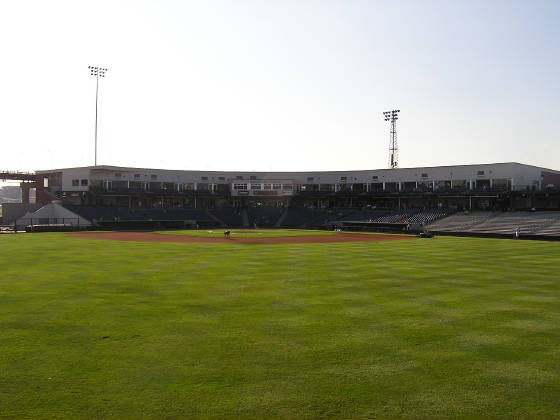 LOCATED IN DAVENPORT, IOWA ON THE BORDER OF IOWA AND ILLINOIS RIGHT ON THE RIVER BANK, O'DONNELL STADIUM IS EASY TO GET TO. JUST GET
TO THE RIVER AND LOOK FOR THE LIGHT TOWERS. PARKING IS FREE UNLESS YOU WANT "PREFERRED" PARKING, WHICH IS $2 .. THE FREE LOT IS LOCATED UNDER THE BRIDGE BUT WHILE ON MY SHORT WALK TO THE PARK I HEARD THE RAIL ROAD
BELLS. YES, A FREIGHT TRAIN WAS HEADED TOWARDS ME AND RUNS THROUGH THE LOT. I REALLY LIKE THE TRAIN RUNNING THROUGH THE LOT AND WONDERED IF MY EXPERIENCE AT O'DONNELL STADIUM WOULD BE COMPARED TO SYRACUSE OR ONEONTA. I DO NOT RECALL HEARING THE TRAIN FOR THE REST OF THE GAME,
HOWEVER.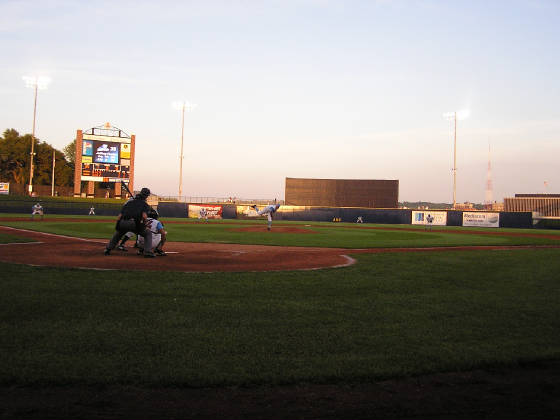 BASEBALL AMERICA A FEW YEARS AGO WHEN RATING MINOR LEAGUE LOGOS AND UNIFORMS QUESTIONED WHY YOUNG MEN WHO ARE COMPETING FOR A MAJOR LEAGUE JOB SHOULD WEAR A CUTE BEAR ON THEIR HAT. WELL, MY QUESTION IS WHY SHOULD THE PLAYERS HAVE TO WEAR LIGHT BLUE UNIFORMS LIKE THE ONES HERE
IN DAVENPORT??

LIKE MANY OF THE MIDWEST PARKS I HAVE VISITED, THERE IS GOOD FOOD AND A GOOD FIXINS' BAR HERE. THE CROWDS AREN'T LARGE AND THE PA ANNOUNCER TRIES TO KEEP THE CROWD INTO IT, HE'S SILLY BUT HE DOESN'T GO OVERBOARD.

THE SWING OF THE QUAD CITIES, NOT A FAN OF THE NAME AND DON'T UNDERSTAND
WHY THEY WENT AWAY FROM QUAD CITY RIVER BANDITS WHERE THEY HAD A COOL
LOGO AND BETTER UNIFORMS. THE SOUVENIR STAND IS LARGE AND OFFERS ABOUT 3
ITEMS. FOR A NIGHT OUT AT THE GAME HOWEVER, THIS IS A REAL GOOD PLACE TO SIT BACK AND RELAX AND ENJOY SOME BASEBALL.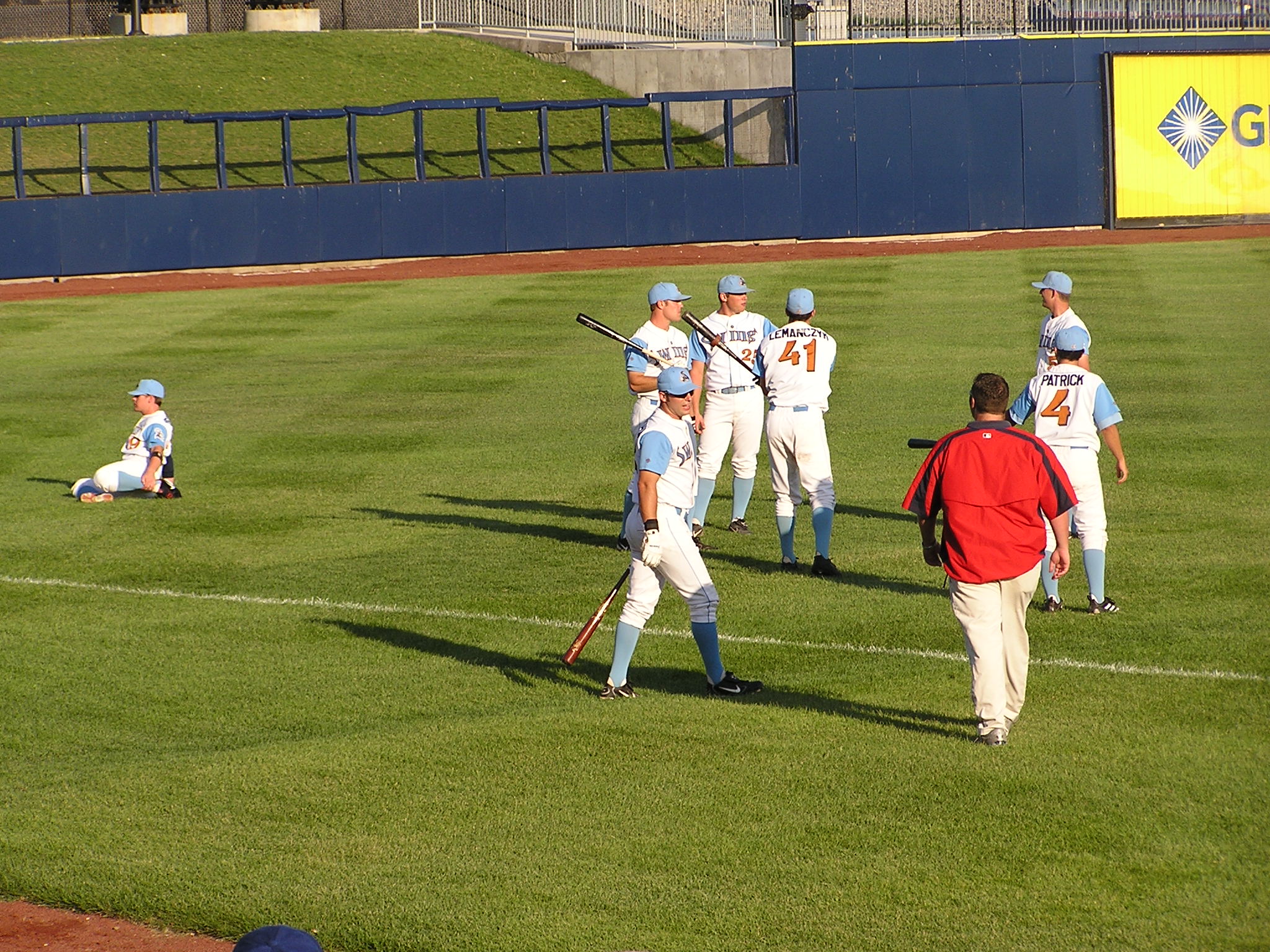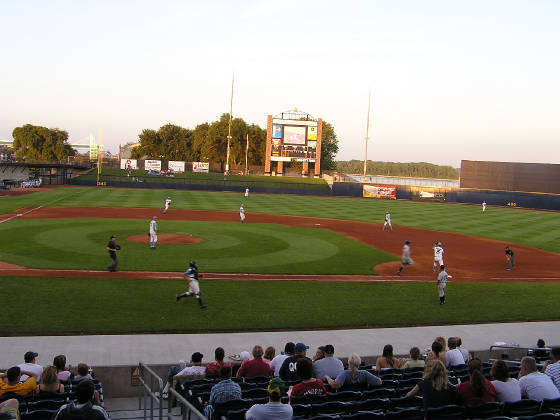 LINE UPS

WHITECAPS MANAGER :::
8 MATT WALBECK

QUAD CITIES MANAGER :::
37 JOE CUNNINGHAM
WEST MICHIGAN WHITECAPS

6 Brooks Colvin 2b
10 Nick McIntyre dh
35 Jeff Frazier lf
29 Brent Dlugach ss
24 Wilkin Ramirez 3b
27 Luis Sabino cf
13 Matt Parrish rf
28 Josh Lee 1b
14 Chris Robinson c
32 Andrew Kown p / LP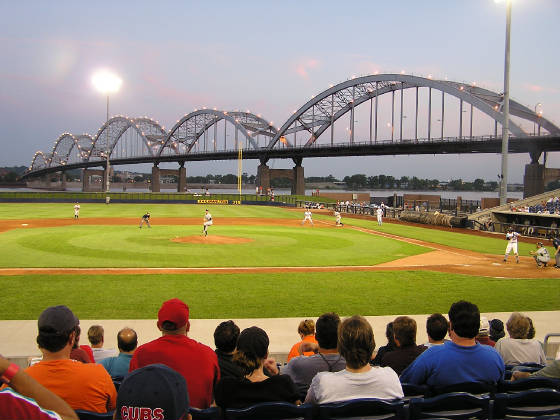 SWING OF THE QUAD CITIES

41 Matt Lemanczyk cf
99 Matt Shepherd 3b
39 Erik Verbryke lf
22 Nick Stavinoha rf
24 Spencer Wyman c
5 Jake Mullinax 1b
28 Juan Lucena ss
4 Chris Patrick dh
10 Calvin Hayes 2b
72 Matt Scherer p / WP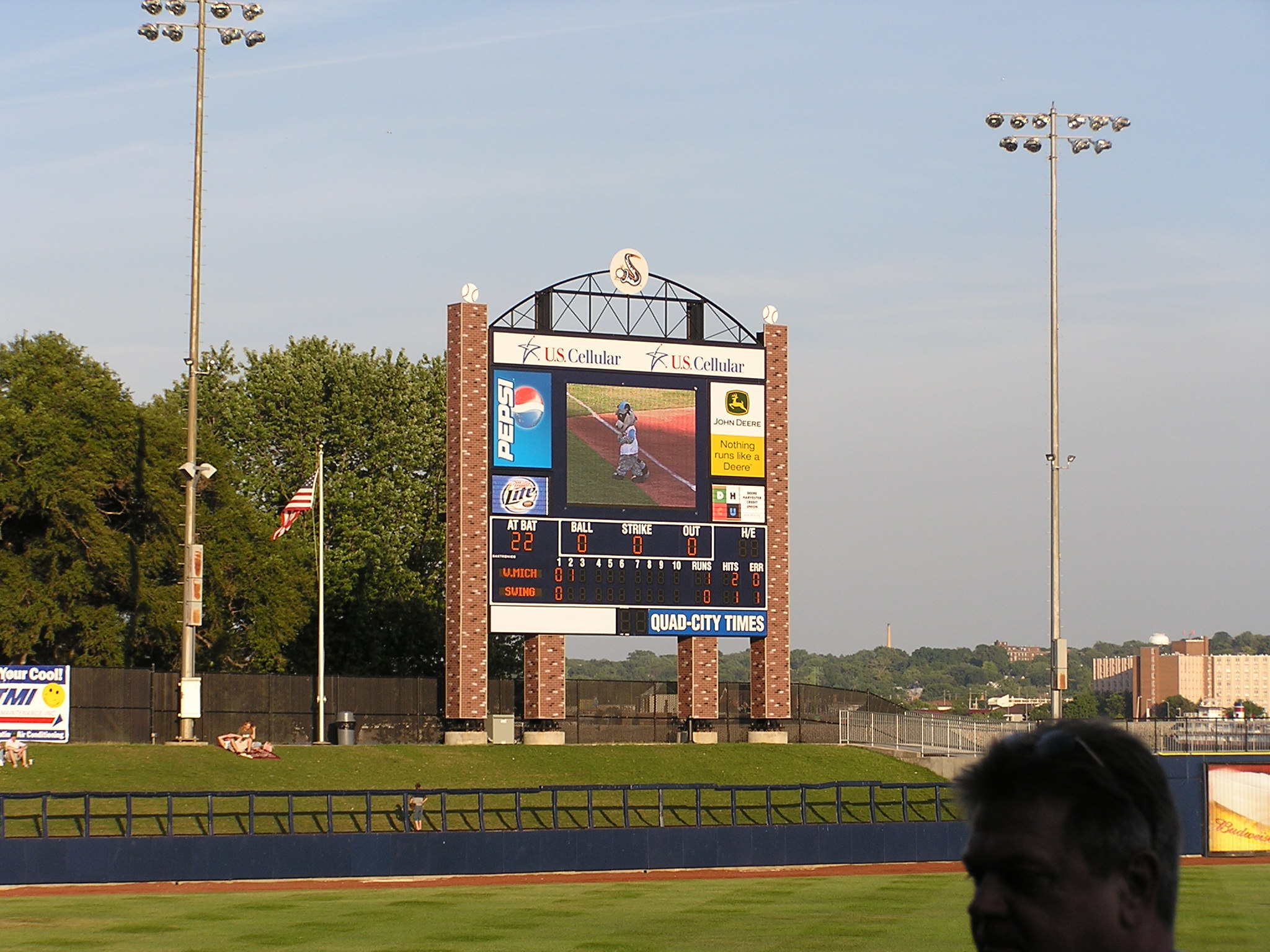 WHITECAPS 012 000 000 3 4 2
QUAD CITIES 000 206 10x 9 15 1

TIME ::: 2:21
ATTENDANCE ::: 1,700
WEATHER ::: 82 WARM HAZY

SEND ME AN E-MAIL

LINKS
The official Site of the Swing of the Quad Cities
A site on the Centennial Bridge
Located about 1/2 mile away in Davenport, The Rhythm City Casino .. Home of the Famous Skywalk
Davenport weather from WEATHER.com